Trees for Cities
P.M Bennison Heating Ltd is a proud sponsor of www.Treesforcities.org and for every high efficiency Worcester Bosch boiler we install we make a donation so that a tree can be planted to improve the local environment.
Peter Bennison, says "It's really nice to have a way to 'give something back' to
the local area and a positive way to support a great community charity."
Trees for Cities is an independent charity, which inspires people to plant and love trees worldwide. Set up as Trees for London in 1993, Trees for Cities' aim is to create social cohesion and beautify cities through tree planting, community-led design, education and training initiatives in urban areas that need it most, managing projects throughout the UK as well as internationally, with work in deprived areas of cities.
As www.TreesForCities.org say, "Community-led design is an integral part of our landscaping projects. Involving local residents, schools and community groups helps ensure the sustainability of green spaces."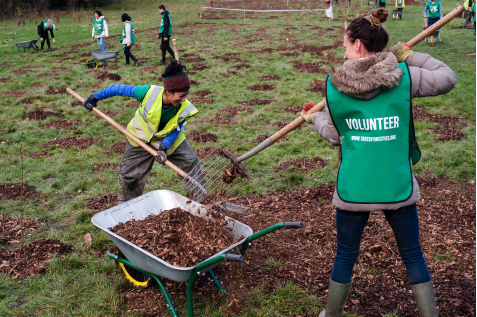 Trees For Cities are the only UK charity working at a national and international scale to improve lives by planting trees in cities. We get stuck in with local communities to cultivate lasting change in their neighbourhoods - whether it's revitalising forgotten spaces, creating healthier environments or getting people excited about growing, foraging and eating healthy food.
To date, our dedicated volunteers have planted over 800,000 trees in cities up and down the UK, and around the globe. This year, we've engaged 15,000 people, including 4,000 volunteers and community members, more than 1,700 corporate volunteers and 11,000 school kids. From planting almost 73,000 trees this year to getting excited about fruit and vegetables, they've all been part of making cities greener.